On October 6th, 2018 we performed with Uglyography and Unk-Al at The Taphouse Grill in Norfolk, VA and we were happy to be joined by our longtime pal James Hall, superhuman percussive manipulator of Sprawl fame.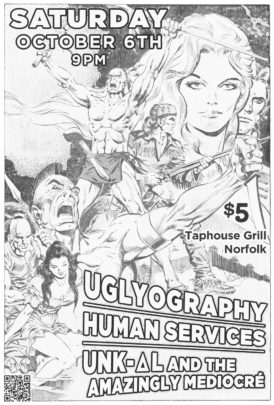 We filmed this improvised noise set in a new format called VR180, intended for viewing with a vr headset/cardboard or similar device. Try it on your fancy phone. Maybe youtube will even let you enable red/blue 3d mode for that sexy a e s t h e t i c you kids love so much. It's unpredictable and experimental and that sounds about right.
So immersive, it's like your own fingles got lazers!